Hockey jerseys are a thing of beauty. Although, your wallet may disagree.
While the price tag might seem steep at first, it's worth taking a closer look at what makes these jerseys so expensive.
Hockey jerseys are expensive due to licensing fees. For each jersey sold, the NHL and the NHL team gets a cut of the proceeds from the sale. In addition, they are very intricately made, hand stitched using premium fabric and other materials, which increases their price.
The cost to make the jersey
Producing an authentic hockey jersey costs just $15. But, when you factor in the licensing fees in addition to marketing and ad costs it costs the company making the jerseys about $75 per jersey.
Jerseys are then sold to retailers for roughly $150. As we know, retailers then increase the price even further to give them the best profit margin possible. This results in the price of a jersey costing the consumer between $200-$300.
It's funny, the reason an official jersey costs so much is also the reason why fake jerseys are so cheap.
Different jersey styles will either increase or decrease the price. Blank jerseys for example will usually raise the price, as the company you are buying it from then has to stitch the name you want on the back.
Typically, a team's alternate jersey will also cost more than their current jerseys, because it's a different design than people are used to and therefore consumers are willing to pay more, justifying the price increase to retailers.
What are they made from?
An authentic jersey from adidas, the type your favorite players wear on the ice, is made from 100% Polyester pique as well as a sweat-wicking Climalite fabric.
It is a synthetic material that is durable and long-lasting. Polyester is also breathable and lightweight. These qualities make it ideal for sports apparel.
The main reason polyester is the fabric of choice when it comes to making hockey sweaters that a player will actually wear during a game is because it is a non-absorbent material, meaning when players sweat, it isn't absorbed by the material.
Cost compared to other major sport leagues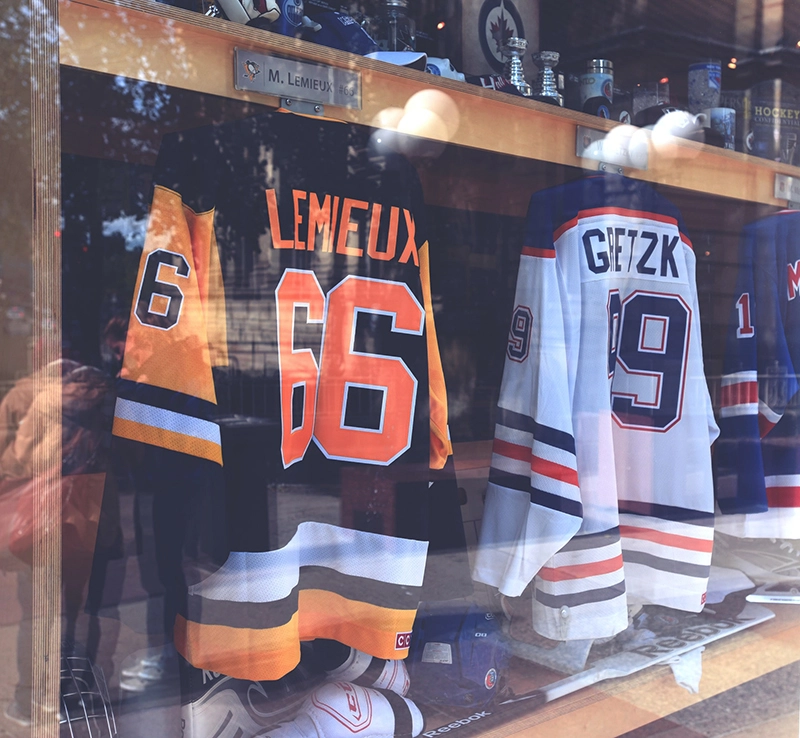 When looking at an authentic sports jersey, the NHL is actually third out of the four major sports when it comes to price. Nike elite football jerseys, which are as close to game worn as you can get in football, are typically the most expensive jerseys.
In this chart, I will show you the price difference between the sports and their jerseys, using the most valuable professional teams from each sport and their top-selling famous player.
| | | | |
| --- | --- | --- | --- |
| League | Team | Player | Price |
| NFL | Dallas Cowboys | Dak Prescott | $324.99 |
| MLB | New York Yankees | Aaron Judge | $299.99 |
| NHL | New York Rangers | Artemi Panarin | $224.99 |
| NBA | New York Knicks | Larry Johnson | $139.99 |
Who knew New York teams were so popular?

Each jersey listed above is an authentic jersey.
Replica vs Authentic hockey jersey
Replica
Replica jerseys are lower quality than authentic jerseys. Replicas often feature screen printed logos and are made from lower quality fabrics.
Replica jerseys are less expensive than authentic jerseys and will cost you between $100-$200
Authentic
An authentic jersey is one that hockey players actually wear on the ice. They are made from premium fabrics and tend to be hand stitched. These jerseys will hold up longer than a replica and are higher quality jerseys.
Authentic jerseys are more expensive than a replica and will cost you between $200-$300.
The biggest difference between them, other than the price difference, is the difference in quality.
Final thoughts
When it comes down to it, the cost of hockey sweaters is pretty high. The reason retailers can get away with these prices is the pure demand for the product.
Surely, they could lower their prices while still maintaining a solid profit margin, but it isn't likely.
If you want to save some money when shopping for your next hockey jersey I would suggest picking up a replica, sure they are lesser quality, but they are still GOOD quality and so many people these days are opting to go with them for the savings.
Hopefully this post helped you!