In the National Hockey League, teams are not allowed to carry however many players they'd like on their teams. Rather, there is a set of rules and different categories in place that NHL teams must follow.
Let's take a look.
NHL Roster Size
How many players are on an NHL hockey team? NHL teams are permitted to have up to 23 players on their roster throughout the season. However, teams are only allowed to dress 20 players for a game; 18 players and 2 goalies. This rule has been in place since the 1982-1983 season.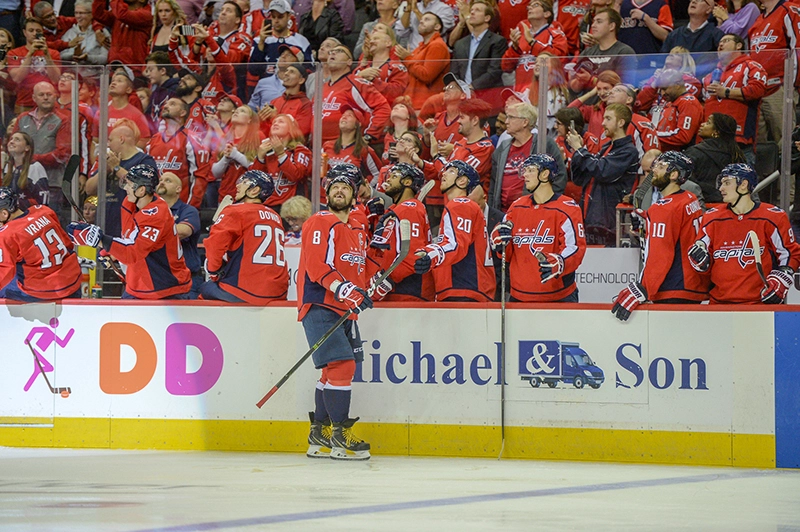 In the NHL, teams are limited to four different sets of roster capacity rules:
1. Reserve list
In the NHL, teams are allowed to have a maximum 90 players on their reserve list.
A reserve list in the NHL contains all players the organization holds the rights to, including;
Unsigned draft picks
Signed players playing in Junior
Signed players playing overseas
2. Players signed to contracts
During the NHL season, teams are allowed to have 50 players signed to a contract at any given time. They are not allowed to surpass 50 contracted players.
The 50 contracted players include:
Active roster players
Players on injured reserve
Players on long term injured reserve
NHL contracted players in the minors
AHL players signed to a two-way contract
Entry-level contracts
Prospects who are 18-19 years old and under contract with an NHL team that play in the CHL or in Europe do not count towards the 50 contracted players limit until they have been called up and played a minimum of 11 NHL games in one season.
Although NHL teams are allowed to have up to 50 contracted players, many choose to fly below this limit.
Being under the limit provides NHL teams with more flexibility to perform roster moves like making trades, submitting waiver claims and making player signings.
3. Active roster players
NHL teams must carry a minimum of 20 active roster players. Teams are permitted to have a maximum of 23 active roster players from the first regular season game all the way up to the NHL trade deadline.
Following the NHL trade deadline, this limit is removed and teams are allowed to have as many active roster players as they wish.
4. Game day players
In the NHL, teams must dress no more than 20 players, 18 players and 2 goalies. The number of forwards and defencemen and forwards is up to the coach's discretion.
Teams typically dress 12 forwards and 6 defencemen. However, sometimes you will see teams go with 11 forwards and 7 defencemen and on rare occasions you will see teams dress 13 forwards and 5 defenseman
History of NHL team roster sizes
Game day roster size in the NHL has changed a lot in the league's history. This was until the rule was finalized in 1982 stating that teams must dress 18 players and 2 goalies for a game, a rule still in place today.
Here is a look at the history of NHL hockey team roster size rules throughout the years.
| | |
| --- | --- |
| Year | Roster size rule |
| 1925-26 | 12 players minimum, no more than 14 players. |
| 1938-39 | Maximum size of roster increased from 14 to 15. |
| 1942-43 | Maximum roster size reduced down from 15 to 14, no longer a 12 player minimum. |
| 1949-50 | Teams allowed to dress 17 players, not including goaltenders. |
| 1951-52 | Number of players teams allowed to dress reduced from 17 to 15, not including goaltenders. |
| 1952-53 | NHL Teams allowed to dress 15 skaters when on the road and 16 skaters at home. |
| 1954-55 | 18 dressed players plus goalies |
| 1960-61 | Players allowed to dress for games set at 16 plus the goaltenders |
| 1965-66 | Teams are now required to dress two goalies |
| 1971-72 | 17 Players dressed for a game plus 2 Goaltenders |
| 1982-83 | 18 Players can now dress for a game plus 2 goaltenders |