Goalie. The weirdest position in hockey, often played by the weirdest people. (I can say that, I'm one of them)
Being a goaltender in hockey is not something many people want to do, I mean, who wants to throw their body in front of a hard rubber puck coming at them at speeds up to 100mph?
So naturally, people are going to have some questions about goalies in ice hockey. I've gathered a list of the 5 most common questions surrounding hockey goalies and have answered each one for you.
Let's get into it.
Who gets the loss if a goalie is pulled in hockey?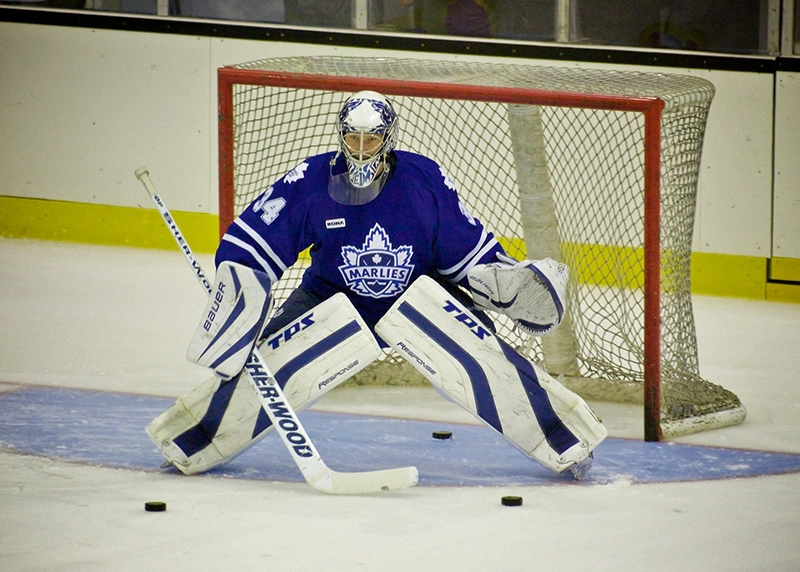 When the starting goalie is having a bad game and letting in more pucks than they should be, the backup goalie comes in to relieve them.
But who gets the loss if a goalie is pulled? The goalie who was on the ice for the game winning goal against receives the loss. It does not matter how many goals the goalies let in.
In addition, if a goalie is pulled while their team is losing, but the team comes back to win, the goaltender who is on the ice for the game winning goal will receive the win.
If your starting goalie is pulled and replaced by the backup goalie when your team is losing 3-0 and your team manages to come back to make it 4-3 but ends up losing the game 5-4, the backup goalie who came in to replace the starting goalie is handed the loss despite letting in fewer goals than the starting goalie, as they let in the game winning goal against.
Who gets the shutout when two goalies play?
It's not uncommon that we see a goalie leave the game and be replaced by the backup goaltender, whether it be due to equipment issues or injuries, despite playing well and not allowing any goals.
In hockey, when two goalies play and neither allow a goal against, who gets the shutout? Neither goalie would be credited with the shutout, it would be marked as a team shutout. In order for a goalie to earn a shutout in a hockey game, the goalie has to play all 60 minutes.
Fun fact: during the regular season, if a goalies team loses 1-0 as the result of a shootout, the goalie is still awarded the shutout despite the loss.
Can a pulled goalie come back in?
Occasionally a goalie in hockey will leave the net and head to the bench, whether it be for a delayed penalty, an extra attacker at the end of a close game or equipment issues.
Once pulled, can a goalie come back in? Yes. Goalies are allowed to return to the game if they are pulled. There is no rule against this.

Reasons for goalies to be pulled and return to the game later on include:
Equipment issues
Sometimes equipment issues take a little time to sort out, like when a skate blade needs to be replaced or a strap on a goalies pad breaks.
In this case, the goalie will be pulled and replaced with the backup until the issue is solved, when they will then return to the net.
Delayed penalties
When the opposing team takes a penalty, and you still have possession of the puck, the goalie will skate to the bench while an extra player jumps on the ice.
Once the opposing team who took the penalty regains possession of the puck, play is blown dead and the goalie returns to his net.
Extra attacker
If a game is close, typically a one goal game, a coach can decide to pull their goalie from the net in order to put an extra attacker on the ice in an effort to tie the game.
If the opposing team scores on the empty net, the goalie will typically return to their net for the remainder of the game.
What happens if both goalies get injured?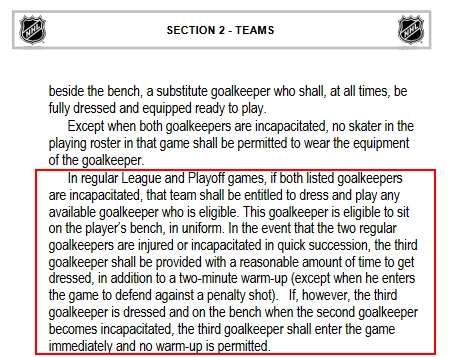 Unfortunately, injuries are a part of hockey and goalies are not exempt. In rare cases, you will see both teams goalies get injured during the game.
What happens if both goalies get injured? All NHL teams have a designated emergency goalie who attends games with their equipment on hand in the event that both the teams goalies get injured.
Typically, an emergency goalie is a local who has played the position at a relatively high level, ECHL, AHL, D1 etc. In the event that they are called upon, they sign a professional tryout contract in order to be eligible to play.
On top of potentially getting to play in the NHL, emergency backup goalies signed to a professional tryout contract will earn $500.
However, if the emergency goalie is an amateur who has not played professionally before, they will be signed to an amateur tryout contract and receive no payment.
This is incredibly rare and has only happened a handful of times.
42-year-old emergency goalie saves the day for Hurricanes
History of emergency goalies in the NHL
| | | |
| --- | --- | --- |
| Emergency goalie name | Team | Date |
| David Ayres | Carolina Hurricanes | February 22, 2020 |
| Scott Foster | Chicago Blackhawks | March 29, 2018 |
| Bobby Segin | Florida Panthers | January 6th 2017 |
| Eric Semborski | Chicago Blackhawks | December 3rd, 2016 |
| Nathan Schoenfeld | Arizona Coyotes | February 15th, 2016 |
| Matt Hewitt | Vancouver Canucks | October 18th, 2016 |
| Jorge Alves | Carolina Hurricanes | December 31st, 2016 |
| Arturs Irbe | Buffalo Sabres | November 18th, 2014 |
| Dwayne Roloson | Anaheim Ducks | November 2nd, 2014 |
| Rob Laurie | Vancouver Canucks | January 5th, 2014 |
| Robb Tallas | Florida Panthers | March 3rd, 2013 |
| Paul Deutsch | Minnesota Wild | November 23rd, 2011 |
What happens if a goalie gets a penalty?
It doesn't happen very often, but sometimes in hockey, a goalie is assessed a penalty.
But what happens if a goalie gets a penalty? If a goalie gets a penalty, the coach will pick a player to serve the penalty for them. Goalies do not serve penalties in the penalty box like other positions.
During the 2020-21 NHL season, goalies took a combined 60 penalty minutes throughout the 56 game season.
| | | |
| --- | --- | --- |
| Player | Team | Penalty minutes |
| Tristan Jarry | PIT | 8 |
| Mike Smith | EDM | 6 |
| Ville Husso | STL | 4 |
| Darcy Kuemper | ARI | 4 |
| Jake Oettinger | DAL | 4 |
| Jake Allen | MTL | 2 |
| Jordan Binnington | STL | 2 |
| Devan Dubnyk | TOT | 2 |
| Marc-Andre Fleury | VEG | 2 |
| John Gibson | ANA | 2 |
| Thomas Greiss | DET | 2 |
| Carter Hart | PHI | 2 |
| Kaapo Kahkonen | MIN | 2 |
| Anton Khudobin | DAL | 2 |
| Joonas Korpisalo | CBJ | 2 |
| Kevin Lankinen | CHI | 2 |
| Jacob Markstrom | CGY | 2 |
| Curtis McElhinney | TBL | 2 |
| Matt Murray | OTT | 2 |
| Alex Nedeljkovic | CAR | 2 |
| Juuse Saros | NSH | 2 |
| Semyon Varlamov | NYI | 2 |