So you're ready to turn pro and start earning a living from skiing, but are stuck wondering how to even land a skiing sponsorship. Don't worry, this article will answer any questions you have about becoming a sponsored skier.
The best way to become a sponsored skier is by creating a demo reel. Your demo reel should portray your marketability to potential sponsors, it is just as important to show your marketability in a demo reel as it is your actual skiing skills. Sponsors and brands want someone that can help them move more product.

Establishing yourself on social media platforms beforehand will also go a long way with sponsors, as it shows them you already have the ability to draw in eyes to their products.
Still have questions? Let's get into more detail.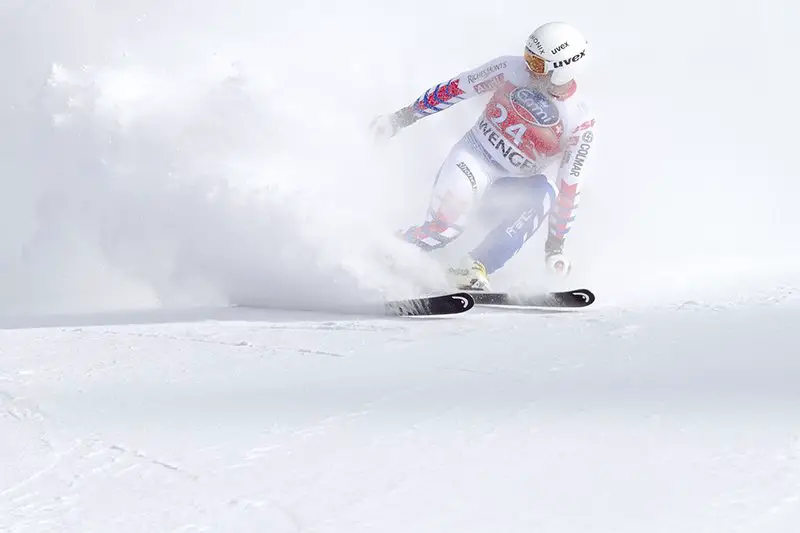 How to get a ski sponsorship
1. Build a social media following
One of the best ways to get sponsored for skiing is by having an established following on social media platforms like Instagram or TikTok. Sponsors want to know that you have the ability to draw eyes to their products before giving you free gear. You may think this is out of reach, but it's relatively easy to build a following in niches like skiing and snowboarding.
Other than the obvious use of popular skiing hashtags in your posts, something as simple as submitting your content to top skiing pages on the platform works wonders, for example this user submitted their clip to a popular Instagram skiing page, the page posted it and put their username in the description and in just 2 days over 50,000 people have seen it!
If your clip is good enough, you can be sure that some of those 50,000 people who saw the clip are going to follow your account. Even if just 1% of them do, that's 500 new followers! You can repeat this process again and again as you slowly build a following of your own, and eventually sponsors will be the ones hitting you up.
Once you start building your following, you can reach out to other skiiers for collaborations, which can help skyrocket your growth.
 

View this post on Instagram

 
2. Always be professional
Being a professional and representing yourself properly is EXTREMELY important if you are trying to land a sponsor. When you become a sponsored skier, you are in essence becoming a face of that brand, no brand is going to want someone who acts like a jackass out in public or treats people poorly associated with them.
Keep your online image clean and be professional, especially at competitions, where there is sure to be reps from these brands looking for new talent.
3. Build Relationships
From experience, if you build up enough established relationships with these brands, whether that be personal relationships, working for them, working as a buyer, etc. it's massive and can go a long way. Rather than chasing down these brands and selling them on sponsoring you without them even knowing who you are, it very well can turn into them asking to sponsor you.
4. Compete. Compete. Compete.
Hands down, there is no better way to land a skiing sponsorship than grinding out competitions. You would be surprised how much money sponsors sink into sending reps to competitions around the world in search of the next Lindsey Vonn or Tanner Hall, so they can snatch them up before the other sponsors. So, be sure to compete in as many as you can and always have it in the back of your head that there are people who are watching you, that sounds creepy, but you get what I mean.
Sadly, the days of sending hundreds of emails to every sponsor you can think of asking for them to sponsor you are pretty much over. From experience, I can tell you that most don't even open "sponsor me" emails and send them right to the trash. Not because they are trying to be rude, but because they get so many.
How hard is it to become a sponsored skier?
I won't lie to you, it's not as easy as sending in a demo reel and becoming sponsored overnight.
When trying to land your first skiing sponsorship you are going to face loads of rejection, and you have to be prepared to handle that, it's just how it goes.
You have to remember, thousands of people every year are sending emails to these sponsors in hopes of landing their first sponsorship, the reality is only a select few will actually land one. But, this doesn't mean you should get discouraged.
If you're reading this now, chances are you are a pretty good skier and believe in your abilities, so who is to say you can't be one of the few skiers who do end up becoming sponsored?
The most important piece of advice I can give you is to not give up, if this is truly what you want to do with your life, and you think you are good enough to do it keep pushing and you will eventually break through.
Ski sponsorship opportunities
It can be overwhelming trying to find all the different brands that offer sponsorships for skiing when you are just starting to figure out the entire process. So I have compiled a list of companies that are actively sponsoring skiers like you.
These brands actually respond to sponsorship emails and some even have online applications you can fill out.
| | | |
| --- | --- | --- |
| | | |
| | Faction skis are one of the larger downhill, backcountry and mountain ski providers in North America. | |
| | Rider owned and operated company based out of Whistler, BC. That offer ski training products and are revolutionizing the way skiers train | |
| | A professional race ski shop that has outfitted high level skiers for more than 30 years. | |
| | Liberty Skis is one of the ski industry's largest independent ski manufacturers | |
| | Founded in 1962 K2 was actually one of the first brands to make products for both men AND women. | |
| | Shred is one of the more well know eyewear companies in skiing. | |
How much do pro skiers make?
According to professional skier Lindsey Vonn, pro skiers make just $30,000 per year before taxes from competition. The real money comes from sponsorships and endorsements from big companies like  Red Bull & Monster energy.

Unless you are one of the best in the world, it is going to be hard to make a living as a professional skier by just competing.
The fact is, most professional skiers you see on Instagram are either sponsored, actually supported by their parents, working second jobs, OR have discovered the other ways you can make income as a skier besides competitions.
Skiing itself may not pay the bills, but it is possible to make a living around skiing, you just need to explore different avenues. Between competitions, sponsorships, instructing, blogging, YouTube, there are numerous ways for people to make a living from skiing. Find which best suits you and go after it, for me, it's blogging!
Who are the highest paid skiers?
When it comes to professional skiing, no one earns more than four time world cup champion Lindsey Vonn who is estimated to have a net worth north of $10,000,000.
Here is a break-down of the highest paid professional skiers on earth.
| | | |
| --- | --- | --- |
| | | |
| | | Under Armour, Head, Red Bull, Oakley, Vail Resorts and GoPro |
| | | Red Bull, LeoVegas, Head, Hestra |
| | | |
| | | GoPro, Head, Deer Valley Resort, Slytech, Toyota, Shred |
| | | Adidas, Barilla, Visa, Longines, Bose, Oakley, IKON Pass |