Hockey training apps that are worth downloading are few and far between. Lucky for you, I've tested and weeded out the hockey apps that I believe are actually capable of improving your overall game.
The 5 hockey training apps that will best help you improve are HockeyTracker, Dangle Time, USA Hockey Mobile Coach, The Vault (for goalies), and Hockey Training TV.
Each one of these apps provide different features that when combined can really give you the best results on the ice. Let's go into a little more detail about each one.
HockeyTracker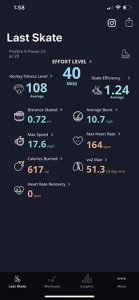 HockeyTracker is hands down the best hockey training app you'll find online, unfortunately it is only available on the Apple app store as it requires an Apple Watch to track things like distance skated, max and average skating speed, ice time, effort level etc.
HockeyTracker has by far the most features out of any hockey training app I've tested. Features include:
Shift detection (tracks shift length, burnt calories, max speed, heart rate during shift, distance travelled, average speed)
Distance Skated
Maximum and average skating speed
Ice time
Hockey fitness level
Efficiency of your skating (effort level and heart rate analysis)
Tracks longest, shortest and average times of your shifts
Keeps track of your metrics over time to show improvement
Shift timer (set desired shift length and your Apple Watch will give you a haptic alert telling you to get off the ice)
Share your stats on all social media platforms
Freshness meter that tells you how prepared you are for your next training session.
Track your VO2 max
Keep track of your heart rates, i.e. Maximum and average ice time heart rates.
Track the score of a game, your goals, assists and +/-
So, as you could probably gather from the extensive feature list, this is the most complete hockey training app out there. It does things others aren't even attempting.
What I loved most about HockeyTracker is the historical data it provides, which allowed me to see exactly how much I was improving over time. Physically being able to see my results gave me added motivation to keep going.
Only available on Apple devices.
Dangle Time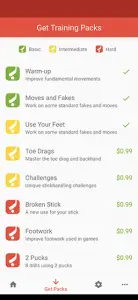 Dangle Time is an excellent drill resource app created by Coach Jeremy Rupke, founder of howtohockey.com.
This app is solely focused on improving your stick handling abilities (hence the name). When you download the app, you are set up with 3 different levels of drills, 2 basic level drills and one intermediate level drill.
After you complete the first three drills, you have to purchase the remaining 5 "training packs" which are reasonably priced at $0.99 each.
In total, there are eight 8 training packs:
Warm-up
Moves and fakes
Use your feet
Toe drags
Challenges
Broken Stick
Footwork
2 Pucks
Each training pack contains 8 drills, meaning the entire app has 64 different stick handling drills!
All in all, it is a fairly good app for hockey training that beginner / intermediate level players would benefit from greatly. If you're a higher level player, this app is a good way to keep your stick handling skills sharp.
USA Hockey Mobile Coach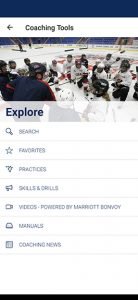 The USA hockey mobile coach app was designed by USA hockey to help coaches create different plans for practice.
However, the app itself is packed with tons of drills for skating, shooting, puck control etc. that you can take full advantage of when you are working on your own game.
The app is loaded with skills and drills that you can practice on or off the ice, and it even has stuff for goalies too.
List of features for USA hockey mobile coach app include:
Skills & Drills
Practice plans
Skill development guides
Tips from professional players
Activity tracker for analyzing your games and practice.
My favorite part about this app is the video section, there are so many videos that help with conditioning, strength training, speed etc. But my favorite is the nutrition tips section, I've always had a hard time eating and fueling right so that my body is ready to perform at peak levels. This app has had a massive impact on my diet and subsequently my game on the ice.
Hockey Training TV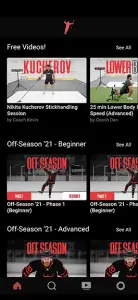 Hockey Training TV is an app that holds hundreds of training videos that are really easy and fun to follow. This app is a great resource that has content to focus on virtually every part of your game, some features include:
Off-Season training guide (3 different phases to get you ready)
Training sessions that focus on Stick handling, speed, strength, conditioning, core, mobility, warm-ups and cool downs and more.
Challenges
Stick handling classes
Reactive stick handling games
Weekly Schedules (including schedules for injured players)
Daily routines
Skating Drills
Combo workouts
Hockey Training TV is actually an app that I've used a bunch during everything that's been going on in the world recently. It's been harder and harder to get to the rink with a group of coaches and my trainers to help keep my game sharp. Naturally, I found myself looking for good trainers online that could help me in areas of my game that were lacking, and this app fit the bill with pretty much everything I was looking for.
Matching this app up with the HockeyTracker app mentioned earlier in this article is a great way to track your progress.
The Vault (for goalies)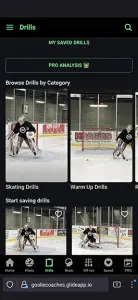 I couldn't put together a list of hockey training apps and leave out goalie specific training, could I? The Vault isn't actually available on the Google Play Store or the app store, it's a very cleanly designed web based app that works just like a mobile app on your phone. When I was testing it out, I just added a shortcut icon to my home screen for easy access.
The Vault really focuses in on training sessions that will improve a goalies game, some features of this app include:
Training videos
Off-ice programs
Nutrition programs
Massive library of drills
Mental game training (with NHL sports psychologist John Stevenson)
NHL Goalie analysis
Like most good things in life, this app is not completely free. It does offer some free resources, but the majority of what you are going actually going to want to use is for premium members. They give you one month free, and it's an $11.99 per month subscription fee after that.
After taking a peek inside, I can honestly say the value these guys are providing you is well worth it and can make some substantial changes to your game.
Final thoughts
After checking out all of these different hockey training apps, I can honestly say you can't go wrong with any of them. However, my favorite by far is the HockeyTracker app for all of its innovative progress tracking features.
Pairing the HockeyTracker app with any of the other four apps we discussed is a bona fide way to get you ready for next season.