There is a common theme with most sports in the world that it tends to pay to be bigger in stature. But what about hockey? Does size matter in hockey?
No. Size does not matter in hockey. There is no correlation between the size of a player and how good they are at hockey. In fact, 5 out of the top 10 tallest teams in the NHL did not even make the playoffs during the 2020-21 season.
How a hockey player uses their size to their advantage is all that matters.
The Stanley Cup winning Tampa Bay Lightning, although having the heaviest team in terms of weight during the 2020-21 NHL season, were actually 25th out of 31 teams in the league for average height. (source)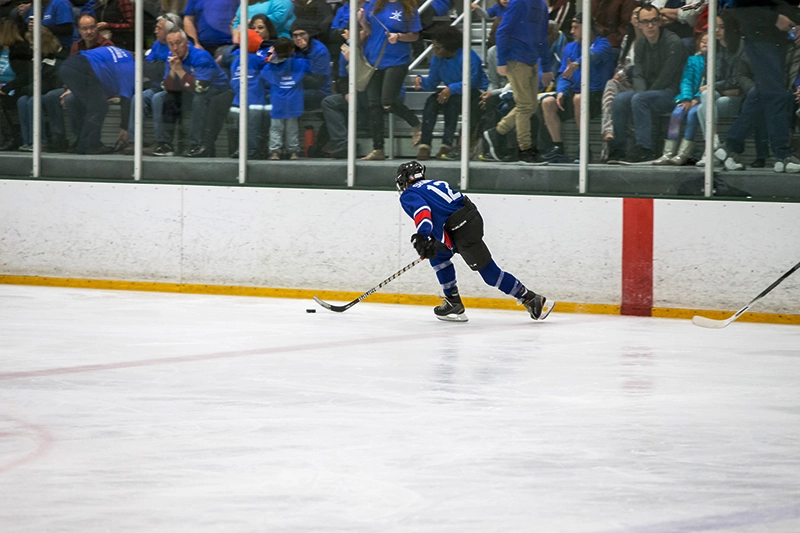 What is the average size of a hockey player?
The average height of a hockey player is 6 foot 1 inch tall (73 inches) and the average weight of a hockey player is 197.5 pounds.
This average was found by using the height and weight of all 914 players who played at least one game in the NHL during the 2020-21 season.
During the 2020-21 NHL season the heaviest player in the league was Jamie Oleksiak who weighed 255 pounds.
The tallest player in the league was Zdeno Chara who is 6 foot 7.5 inches tall. Below I have put together a list of the height and weight of every player who played in the NHL last season.
This data was pulled directly from NHL.com, they list height in inches. You can use the converter below to see a player's height in feet.
Feet:
Is it better to be short or tall in hockey?
When you look at the average height of an NHL player and see that it's 6'1″, you may be thinking to yourself that all these players are tall, so being taller must be better.
But that's not necessarily the case.
Tall players tend to thrive in the role as a defenceman, using their taller frames to box players out of the slot and their extended reach to intercept passes and knock down shots. Whereas shorter players are much better suited to play on the offensive side of things as a winger.
While height does player a role in hockey, things like hockey IQ, skill, skating ability, body positioning etc. are all things that matter much more. Just look at some of the best players in the NHL today.
Let's look at Brad Marchand for example. Some websites have Brad Marchand listed at about 5'9″ but in reality he's more like 5'8″.
Marchand is typically one of the smaller guys on the ice nearly every single night, and yet he has been top 10 in the NHL for scoring three years in a row. He uses great body positioning along with his hockey IQ to outperform most players who are taller than he is.
Mitch Marner is another great example of smaller players using their hockey mind and proper body positioning to turn themselves into elite players. Although some sites list him as 6'0″ he is actually 5'9″ and has a fairly small frame, weighing in at just 175 pounds.
Pros of being tall in hockey
With all that being said, being tall in hockey definitely does come with its benefits.
Longer reach allows for more efficient poke checking as well as disrupting passing lanes
Taller, bigger players typically have harder shots as they can generate more leverage
Bigger players will have an advantage in battles against the boards
Pros of being short in hockey
Being of shorter stature in hockey has its own benefits as well.
Smaller players are generally better skates due to their low center of gravity
Shorter players are typically more shifty and able to open up the ice better than taller players
Players who are short tend to be more skilled than taller players, they develop these skills to compensate for what they lack in height.
What about goalies?
Unfortunately, being a goaltender is the one main position other than perhaps defense that taller people inherit an advantage. This is due to the simple fact that they can cover more of the net.
It seems each year the goalies in the NHL get bigger and taller. However, that doesn't mean shorter goaltenders don't have a shot.
Juuse Saros is only 5'9″ and has just earned himself the starting position with the Nashville Predators. He is one of the best goalies in the entire league.
So it's possible for shorter goalies to make it to the highest levels of the NHL, they just need to work a little harder.
Is height an advantage in hockey?
No. Height is not inherently an advantage in hockey. What matters more is how players; short and tall, use their size to their advantage. Coaches would much rather have a shorter player who can use his size to be effective at both ends of the ice as opposed to a taller player who is a liability.
As the old saying goes:
It's not the size that matters, it's how you use it.
This saying definitely applies to hockey.
Being physical is a large part of hockey. Do you know what's better than a tall big player who likes to play a physical game? A smaller, faster player who likes to play a physical game. If a player is tall but doesn't know how to use their body in the dirty areas of the ice, what good is their height?
It's important, if you are on the shorter side of things and aren't necessarily the next Mitch Marner or Brad Marchand when it comes to skill, that you learn how to combine your small stature and your speed into your physical game.
Can hockey players be short?
Yes! Hockey players can be short. In fact, the shortest player in the NHL right now is Nathan Gerbe at just 5'4″ tall.
Here is a list of notable NHL players that are under the league average of 6'1″ tall.
| | |
| --- | --- |
| Player | Height |
| Rocco Grimaldi | 5'6″ |
| Cole Caufield | 5'7″ |
| Alex DeBrincat | 5'7″ |
| Cam Atkinson | 5'8″ |
| Tyler Johnson | 5'8″ |
| Kailer Yamamoto | 5'8″ |
| Mats Zuccarello | 5'8″ |
| Viktor Arvidsson | 5'9″ |
| Brendan Gallagher | 5'9″ |
| Johnny Gaudreau | 5'9″ |
It goes to show you, that height is not everything, and you can play the sport of hockey no matter your height.