The ice surface hockey players skate on has changed quite a bit throughout the years.
But are all hockey rinks the same size now?
No. Not all hockey rinks are the same size. There are two different hockey rink sizes; North American and International. North American hockey rinks are 200 ft by 85 ft (60.96 m × 25.9 m) while International hockey rinks are 197 ft by 98.5 ft (60.0 m × 30 m). Both feature a corner radius of 28 ft (8.5 meters).

However, this may not be the case for long.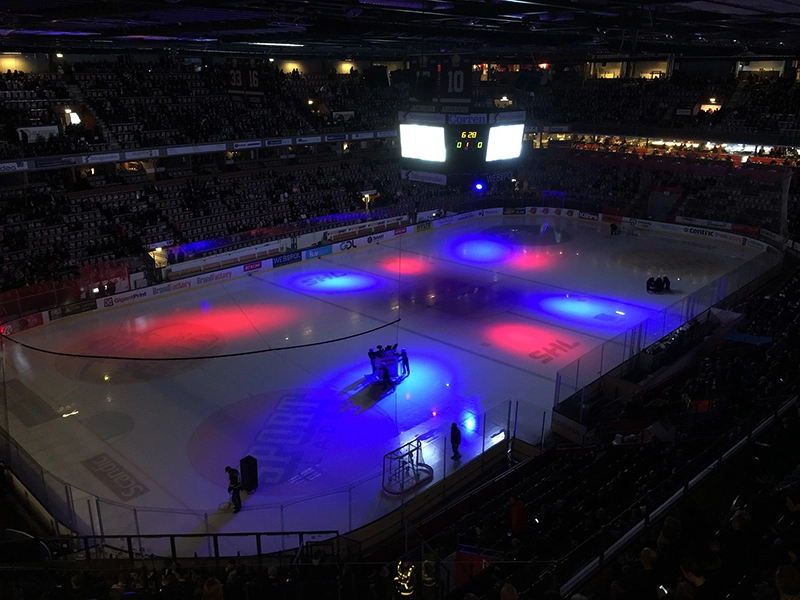 North American hockey rink size
200 ft by 85 ft (60.96 m × 25.9 m)
Most professional leagues in North America follow the regulations set out by the National Hockey League, when it comes to rink size it is no different.
Most of the major hockey leagues in North America; College, AHL, NHL, ECHL and junior hockey, use uniformed sized hockey rinks to play on.
The smaller rink size found across North America leads to a more exciting and fast-paced game compared to that of international play.
Throughout youth hockey in North America, rink sizes will vary. If the arena wasn't built in the last 10-20 years or gone under any recent remodeling, chances are it is different from the ice surface used at high levels of play.
This is because those local community arenas were built years ago, when the standard size of a rink was different from it is today.  It's not uncommon for local arenas to be 175 ft x 65 ft or 185 ft x 75 ft.
History of North American rink sizes
North American Hockey rinks at the professional level have not always been this size. In fact, over the years, they have actually increased in size.
In 1929, the NHL standardized the 200 ft x 85 ft rink. Over the years in North America, when new venues for ice hockey games were built, they would be built to those specifications.
Before this, most were 200 ft x 80 ft, however not all rinks were the same size, some were even smaller.
| | |
| --- | --- |
| Arena | Rink size (feet) |
| Ottawa Auditorium | 200 x 80 |
| Toronto Mutual Street Arena | 200 x 80 |
| Hamilton Barton Street Arena | 200 x 80 |
| Montreal Forum | 200 x 80 |
| Boston Arena | 200 x 80 |
| Boston Garden | 191 x 83 |
| Madison Square Garden | 186 x 86 |
| Detroit's Olympia Stadium | 200 x 83 |
| Buffalo Memorial Auditorium | 196 x 85 |
| San Jose Cow Palace | 185 x 85 |
So as you can see, there were quite a few different sized rinks throughout the NHL over the years.
Despite the NHL mandating all rinks be the same size all the way back in 1929, older rinks were grandfathered in.
In fact, it was not until 1996 when the Buffalo Sabres moved out of the Auditorium that all ice surfaces in the NHL became uniform.
International hockey rink size

197 ft by 98.5 ft (60.0 m × 30 m)
Currently, most International hockey rinks are larger than North American rinks.
This is because most European leagues follow the rule book and standards issued by the International Ice Hockey Federation (IIHF) which are used across multiple international ice hockey tournaments like the Olympics and the World juniors.
However, international hockey ice surfaces seem to be inching closer to being inline with that of North American rinks
For example, in 2019 the KHL made the decision to move to a smaller ice surface. They mandated that all KHL rinks be one of two acceptable dimensions:
197 ft by 92 ft (60 m x 28 m) 
197 ft by 85 ft (60 m x 26 m)
The reason behind this switch is simple. The International Ice Hockey Federation plans on shrinking the size of the ice at their upcoming competitions, including:
World Junior Ice Hockey Championships
IIHF World Championship
Olympics
Seeing as most international leagues follow the leader when it comes to the IIHF, it only makes sense we will be seeing more and more international leagues fall in line with a small rink size.
Frequently Asked Questions
Here are some of the most frequently asked questions about the size of hockey rinks.
Are NHL rinks standard size?
Yes. All NHL rinks are 200 x 85 feet. This rule was written in 1929 but did not completely come into effect until 1996 when the Buffalo Sabres moved to what is now known as the KeyBank Center.
Is KHL ice bigger than NHL?
Yes. KHL ice is bigger than NHL ice. But not by much, as the KHL has been shrinking the size of its ice.
Currently, KHL teams are allowed to play on one of two different sets of ice rink dimensions, 197 ft by 92 ft or 197 ft by 85 ft. Depending on the KHL arena, the ice can be virtually the same as the NHL or just 10 feet wider.
Are College and NHL rinks the same size?
No. Not all college rinks are the same size as NHL rinks. Most do fall in line with the 200 ft x 85 ft standard size set by the NHL, however there are outliers.
| | | |
| --- | --- | --- |
| Team | Arena | Rink size (feet) |
| Wisconsin Badgers | Kohl Center | 200 x 97 |
| Minnesota Golden Gophers | 3M Arena | 200 x 100 |
| UMass Minutemen | Mullins Center | 200 x 95 |
| New Hampshire Wildcats | Whittemore Center | 200 x 100 |
| Northeastern Huskies | Matthews Arena | 200 x 90 |
Final thoughts
North American Hockey and International hockey are played on different sized ice rinks, with North American being smaller and International leagues being larger.
However, over the years North American rinks have been getting larger while International rinks get smaller. It seems only a matter of time until there is a uniform hockey rink size across all leagues.